Upper Franconian Municipality Wunsiedel Reaches Climate Goals Early Thanks to Wind, Bioenergy and Co.
Berlin, June 23rd 2016 – Today the Bavarian town of Wunsiedel will be honored as "Energy Municipality of the Month" by the Renewable Energies Agency. The town already reached its self-chosen climate and energy goals for 2020 this year. Wunsiedel, with around 9,300 residents, produces about 20 percent more energy from renewable sources than they actually need. About half of the heating needs are also covered by renewable energy. The green house gas emissions have been cut in half in comparison to the year 2008. "Wunsiedel is a good example of the many municipalities that are bringing the expansion of renewable energies forward," notes Nils Boenigk, Deputy Managing Director of the Renewable Energies Agency, during the award ceremony given for the second mayor of the town, Manfred Söllner, and the head of the Wunsiedler Municipal Utility, the SWW Wunsiedel, Marco Krasser.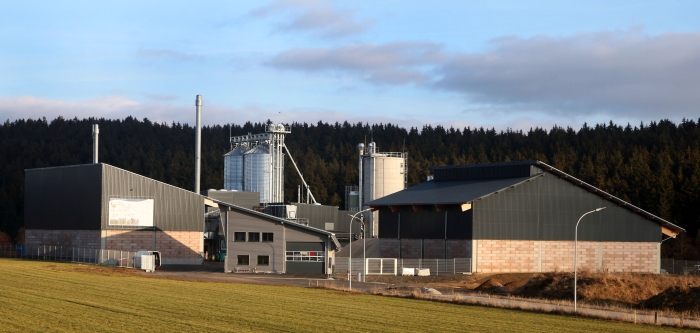 Already starting in 2001, the town, with the help of the municipal utility and the local residents, has been leading the way to a regional and climate friendly energy supply. Six wind turbines, over 340 photovoltaic systems and two wood heating and power stations produce power and heat on-site. "From the beginning, we have used the renewable energy sector as a chance to build up decentralized energy production and through that create jobs and strengthen our value added," says Marco Krasser, head of the Municipal Utility.
Since the beginning of 2016, the town-owned municipal utility of Wunsiedel has been working on selling its electricity from its local photovoltaic systems and wind power to users in the surrounding areas. Through the directly sold electricity from local sources, the community has set up a regional balancing group.
In order to increase the local acceptance of renewable energies, the municipal utility has employed many participation opportunities and transparent information. For example, the website "Energieflussvisualisierung" displays the real time data on electricity being produced and used. Users can see live with an interactive map whether the power being produced in Wunsiedel is being sold to other areas or whether the area needs to draw power from an outside source. "With the 'WUNsiedler Weg Energie' we are heading, together with our community, in the direction of regenerative resources and with that we stand for sustainability," according to Krasser.