6. Investment strengthens the economy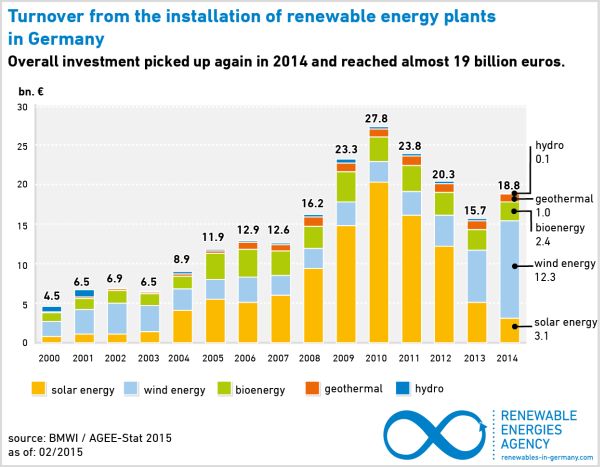 In order to secure the energy supply of the future and achieve Germany's climate protection goals, the development of renewable energy is steadily progressing. In 2014, investment in facilities that use renewable energy sources and in their production capacities amounted to 18.8 billion Euro. Revenue from the operation of plants reached 14.8 billion Euro. Moreover, German manufacturers and suppliers not only participate in the development of renewable energy systems domestically but also on foreign markets.

Each Euro invested in renewable energy by the government also triggers private investment. In the heating market, the purchase of renewable energy systems is promoted by the Market Incentive Programme (MAP). This includes heat pumps, solar panels or wood heaters. Each MAP-funding euro leads to around 8 Euros in additional investment. The funding creates added-value locally, from which the economy as a whole benefits: income, jobs and tax revenue are generated. Apart from plant operators, small and medium sized suppliers, local crafts, private citizens, as well as the agriculture and forestry sectors benefit.